A delegation of Malaysian diplomats pursuing Diploma in Diplomacy (DiD) at the prestigious Malaysian Institute of Diplomacy and Foreign Relations with the objective of understanding the role of AALCO, alongwith senior officials of the Institute visited the AALCO Secretariat on 2 August 2023.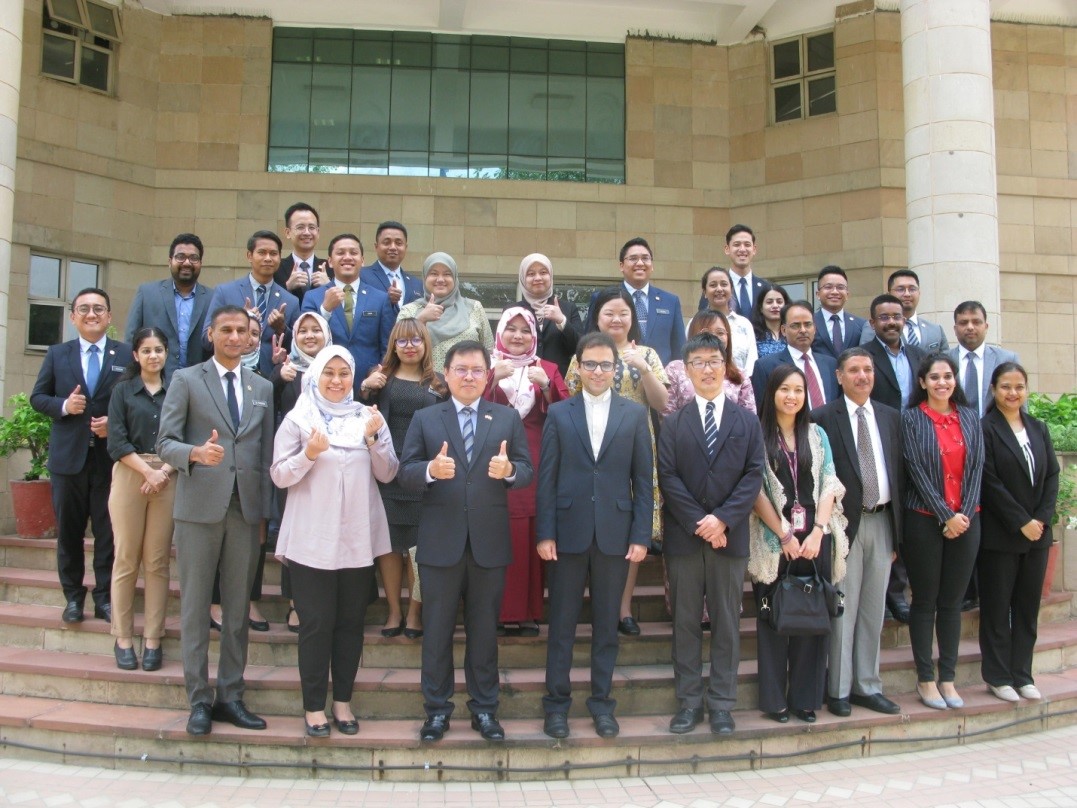 Mr. Amizal Fadzli Rajali, Charge d' Affaires of Malaysia to India and Ms. Nuramira Akmal Mustapa, Counsellor (Political), the Liaison Officer to AALCO, also accompanied the participants.
Dr. Ali Garshasbi, the Acting Secretary-General, welcomed the participants and expressed his pleasure in hosting the future diplomats at the AALCO Secretariat. He conveyed the best wishes of H.E. Dr. Kamalinne Pinitpuvadol, Secretary-General to all participants for their career as diplomats. Due to his prior engagements, Dr. Kamalinne Pinitpuvadol could not attend the event.  
Mr. Amizal Fadzli Rajali echoed Dr. Garshasbi's words and expressed his pleasure to visit the Secretariat and thanked the Secretariat for hosting the participants.
Dr. Shikhar Ranjan, Director, Mr. Kiran Mohan, Senior Legal Officer and Mr. Abraham Joseph, Legal Officer presented an overview of the organization, touching upon its genesis, structure and decision-making, work programme, publications and the internship programme. The session was followed by a lively, interactive session, which saw noteworthy questions from the floor. It also demonstrated the interest of young diplomats in the working of AALCO.
Mr. Jun Yamada, Deputy Secretary-General, AALCO delivered the vote of thanks by conveying his appreciation for the enthusiasm of the participants and hoped they have gained more information about the organization.  
Mrs. Nurul Adni Zainul Ariff, Principal Assistant Director, Competency Enhancement Centre and Mr. Ahmad Faizal Hilmi Mohammad Shaharul Hashri, on behalf of the Director General and the DiD participants thanked the Secretariat for hosting them and appreciated the work of the organization.
The Interactive Session was ably moderated by Ms. Geetika Sharma, Head of Policy Planning and Communications Division and Senior Executive Assistant, AALCO Secretariat.